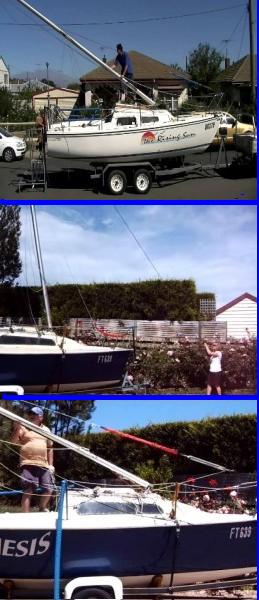 MastMate is a system for the raising and lowering of the mast on a trailerable yacht.
MastMate allows one person to raise or lower a mast single-handed. This task can be accomplished easily, quickly, and with safety.
Mastmate has been developed over several years, and safety for the operator and other crew has been a major consideration in the development.
Attaching and activating the MastMate takes only a few seconds. Once activated, the mast can be raised to an upright position by one person and, depending on the weight of the mast, can be accomplished with one hand. (e.g. Noelex 25)
When lowering the mast a similar timeframe is incurred but hardly any personal energy is expended in returning the mast to the dropped position. This is easily achieved by one person, in safety, even in strong winds.
MastMate is UNSUITABLE for rigs in excess of 45 kgs. and use in excess of specifications will void the warranty.
MastMate comes with a 90 day warranty against faulty workmanship and/or materials.
MastMate has 3 models MastMate SC, MastMate Magic TC and the new bipole system for larger boats MastMate TP:
New MastMate SC
Under 35 kgs: $189 excluding post & handling.;
Under 45 kgs: $200 excluding post & handling.;
MastMate Magic TC $ T.B.A. excluding post & handling.;
MastMate TP $ T.B.A. excluding post & handling.;
(Weights shown include mast and rigging.)